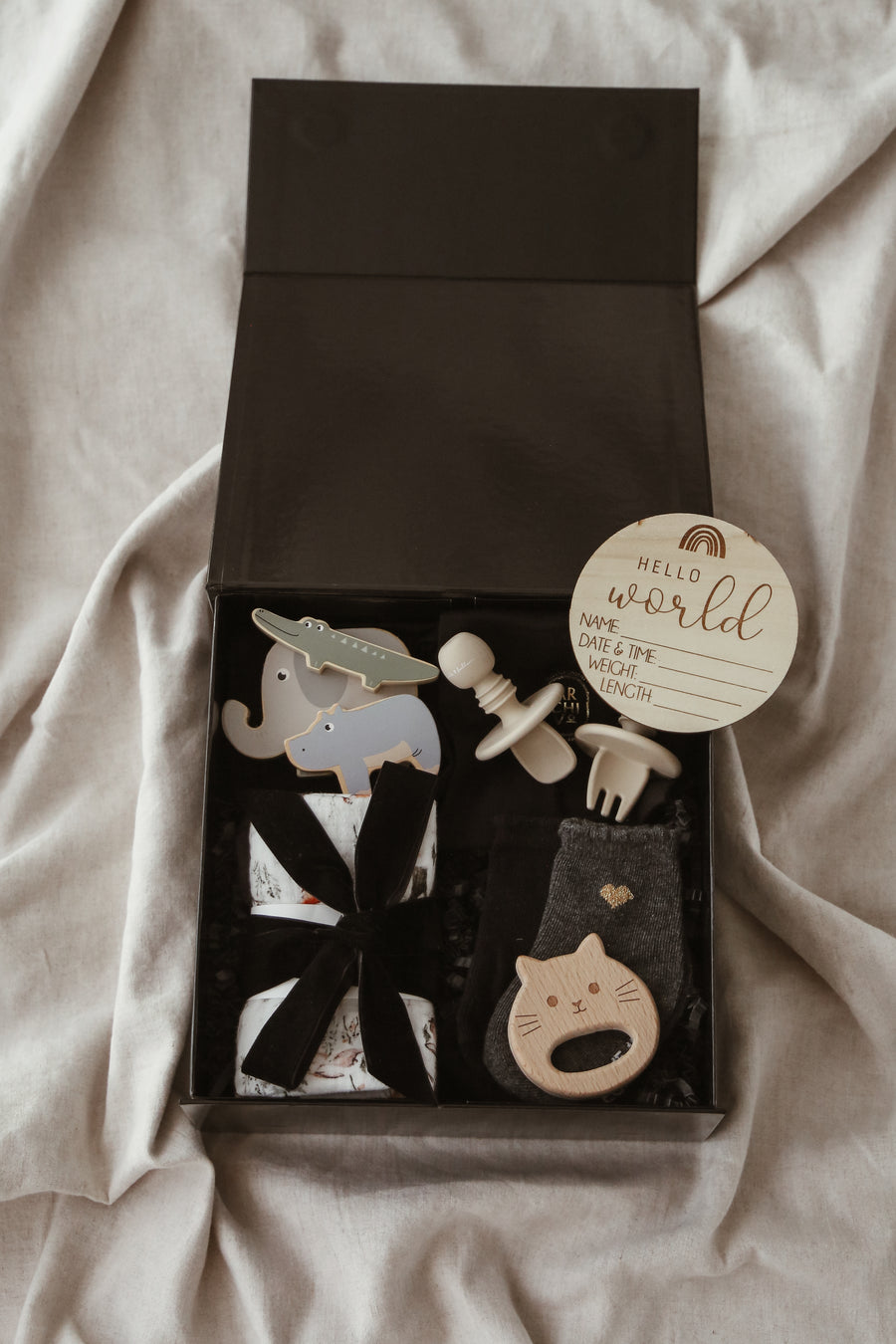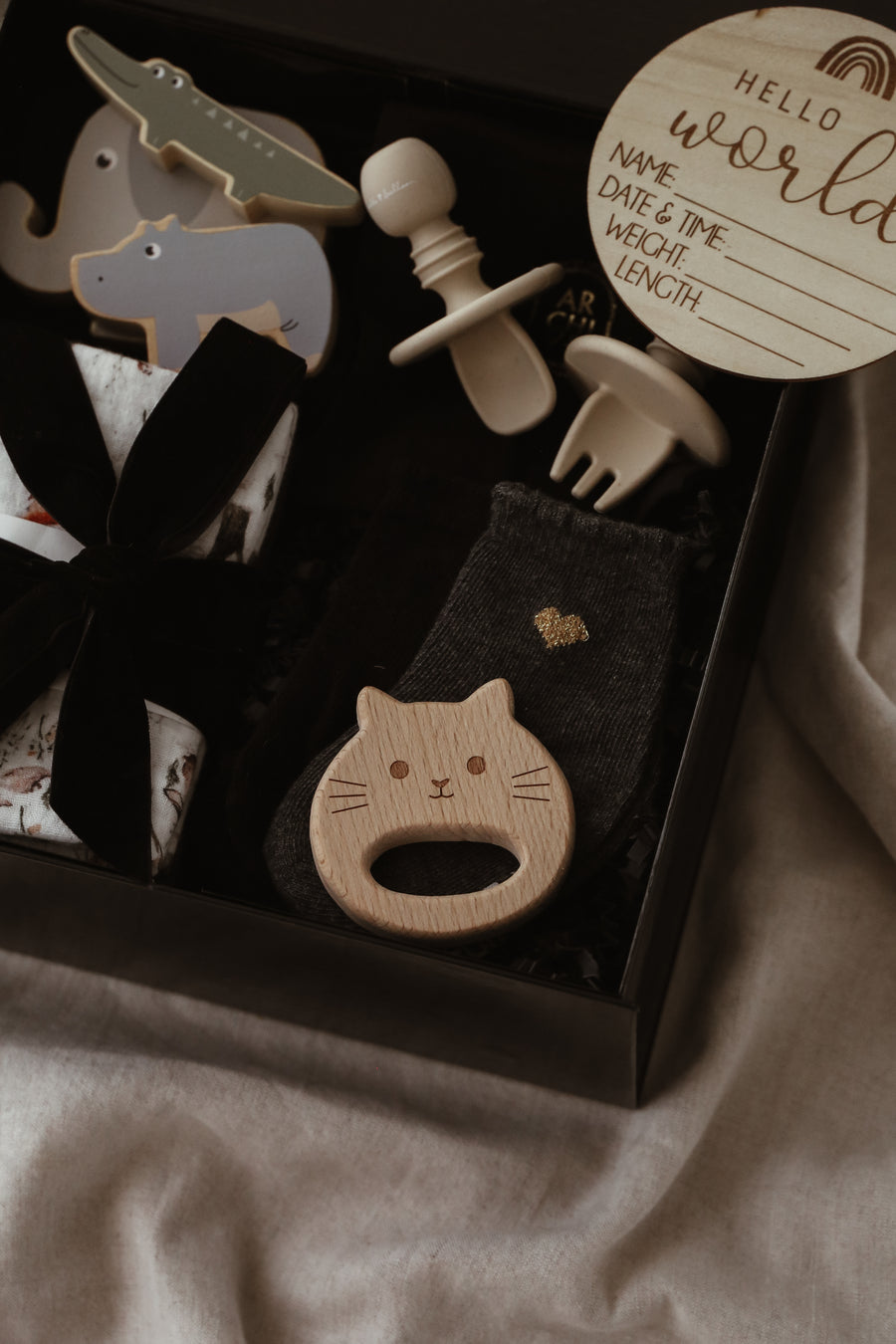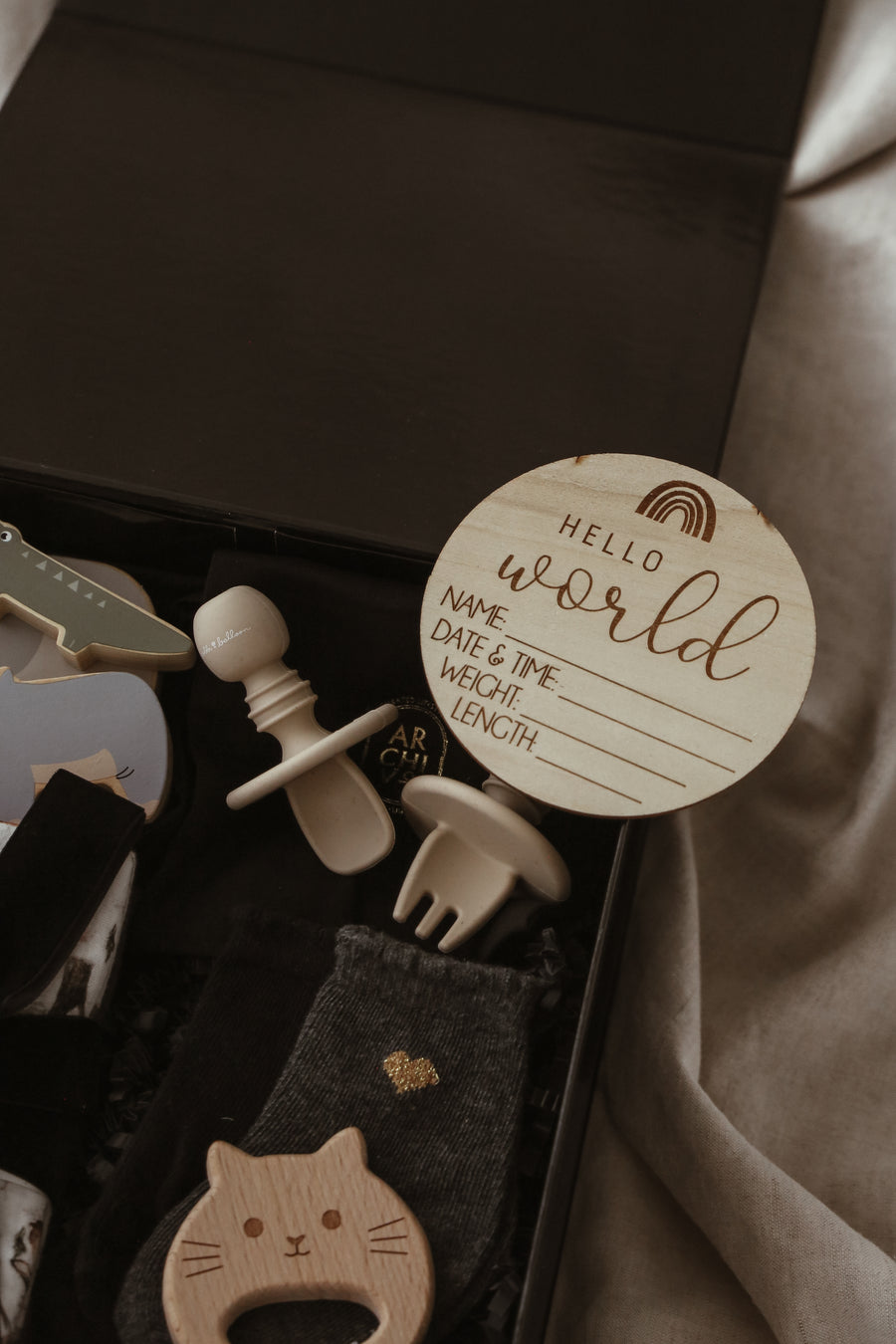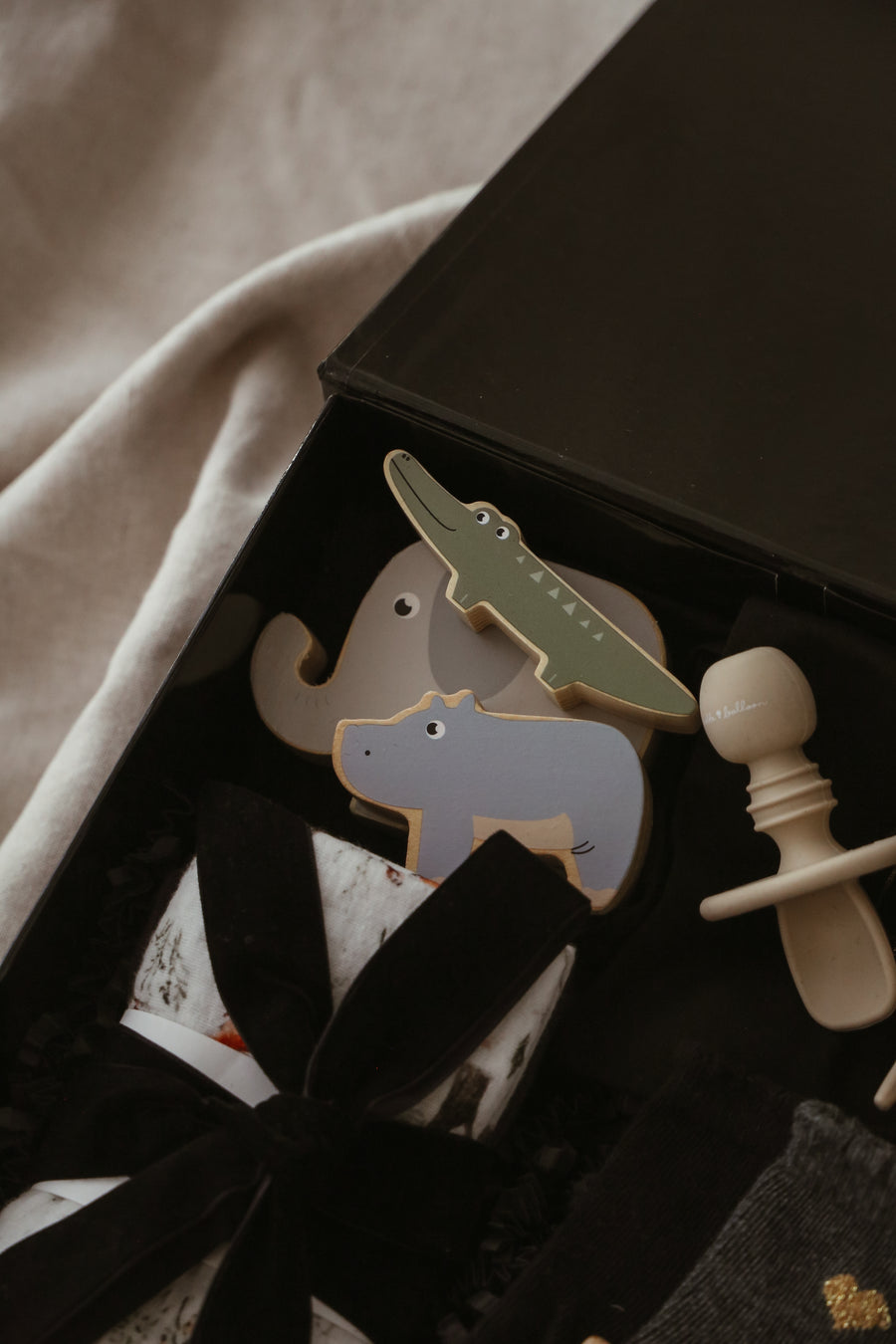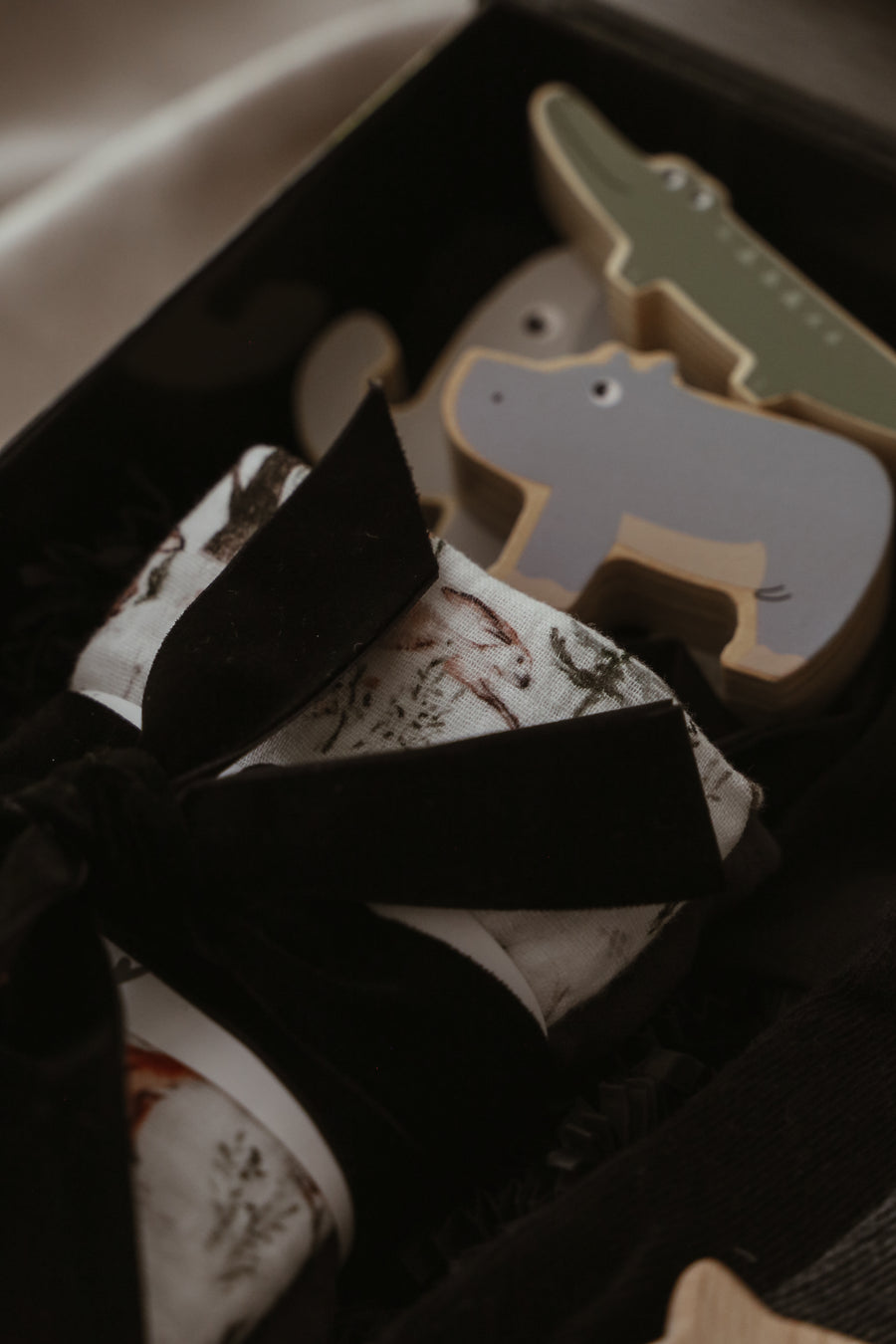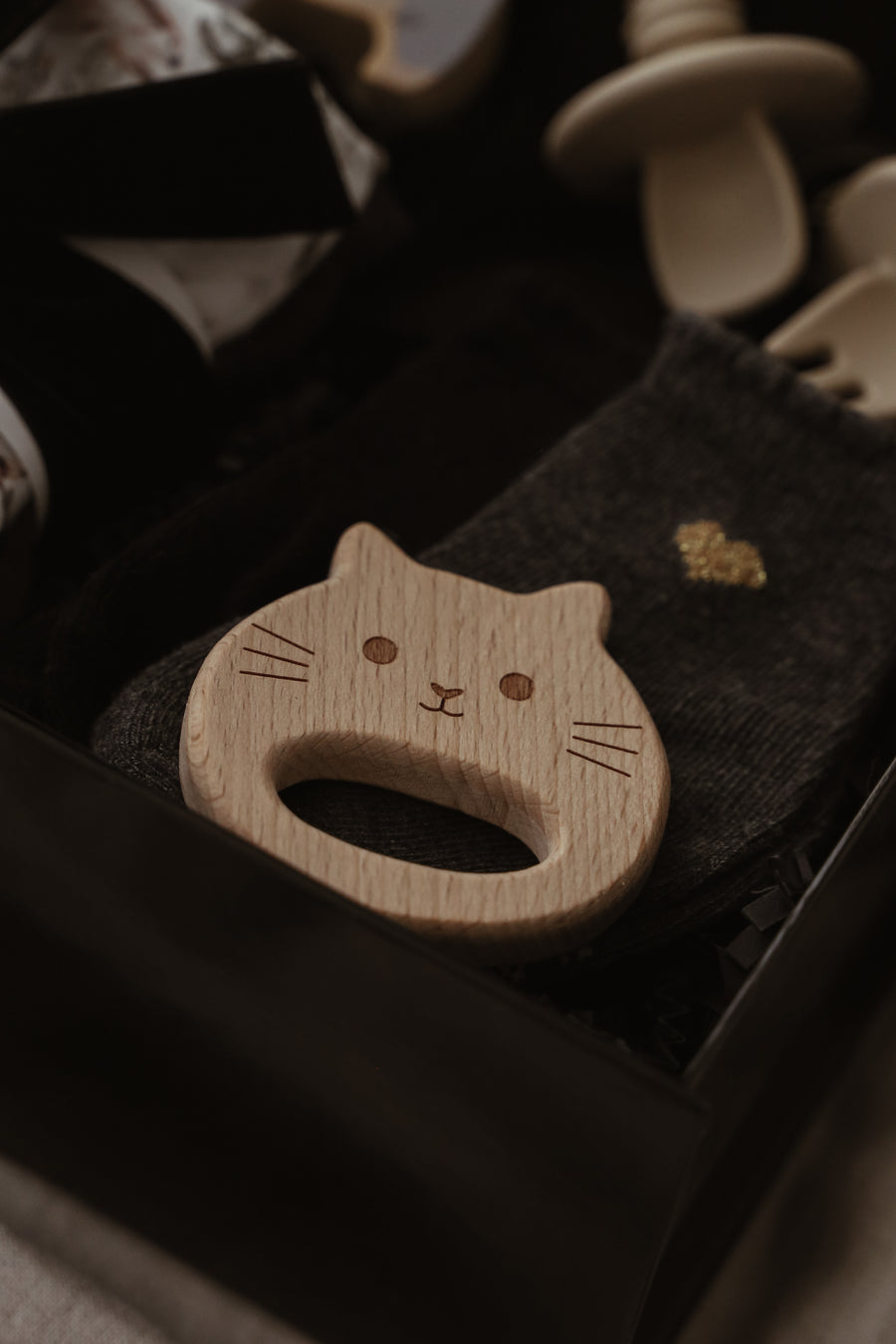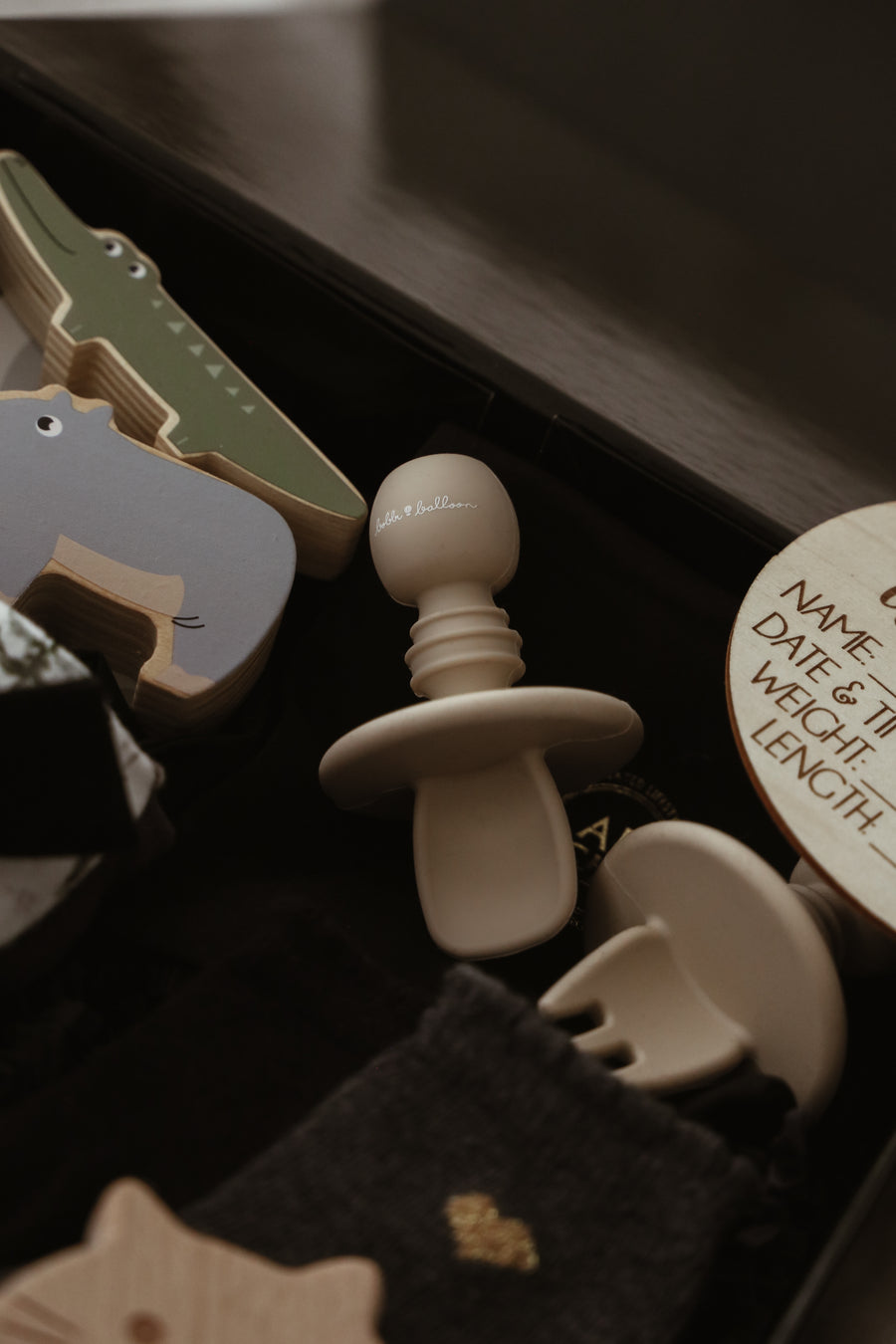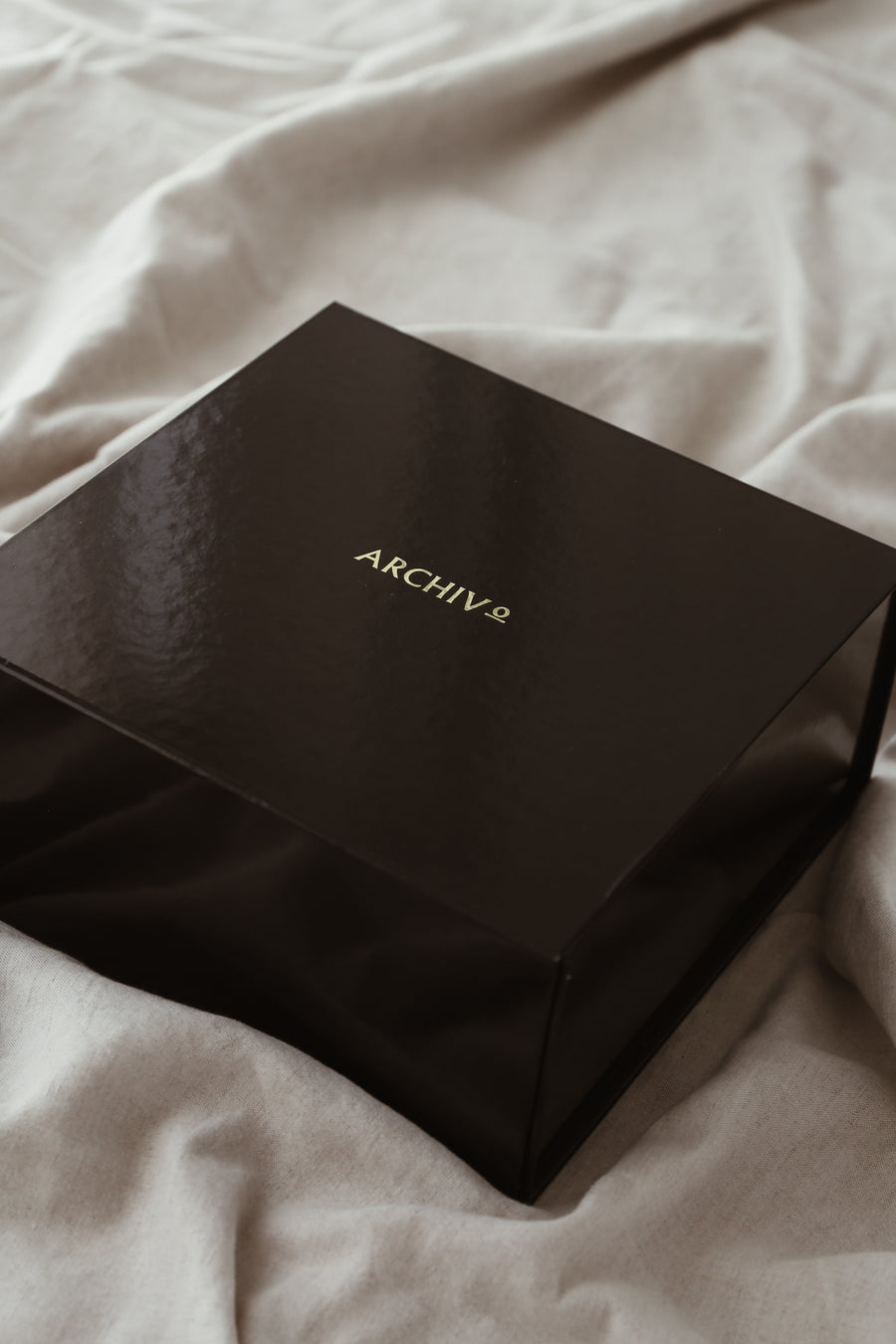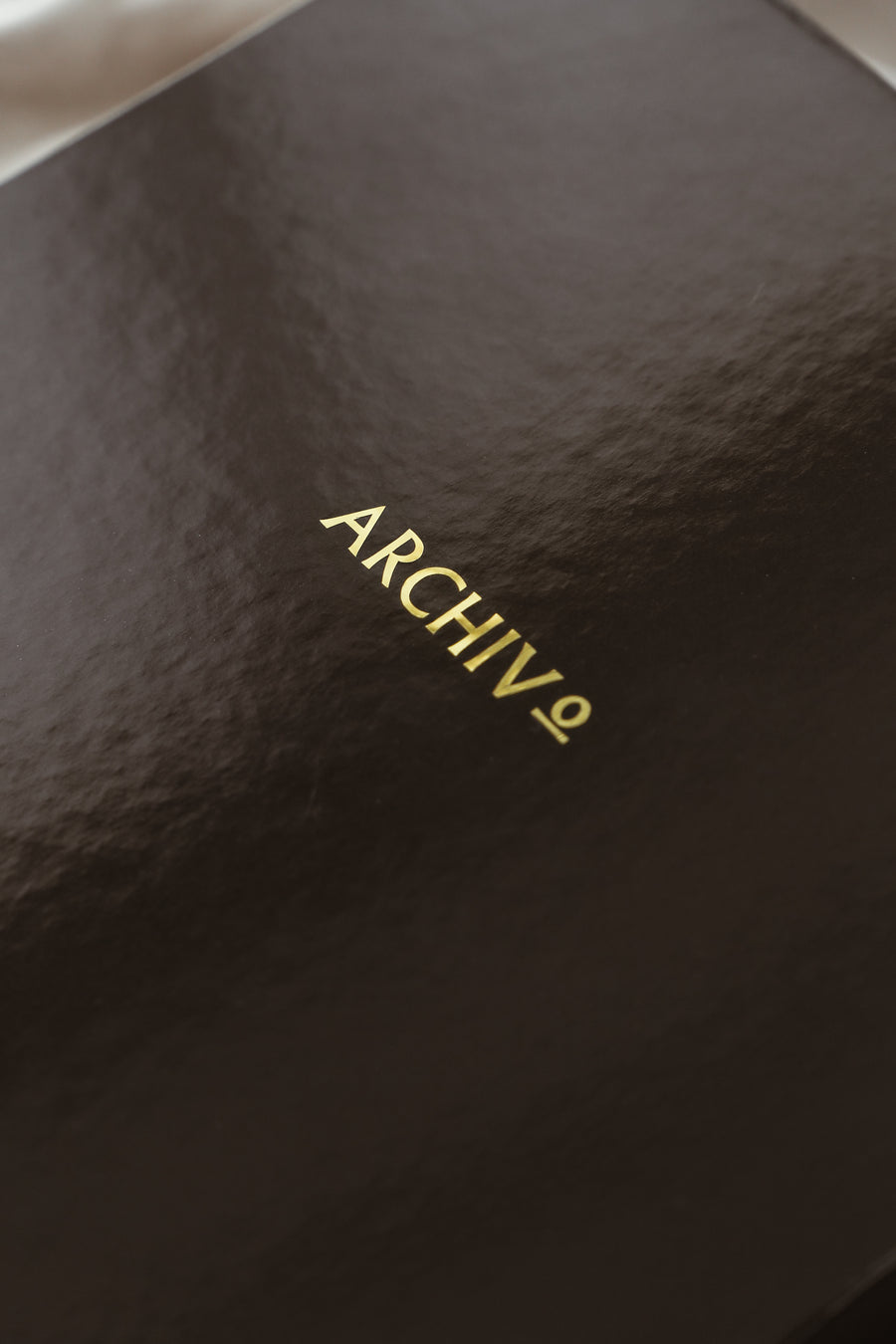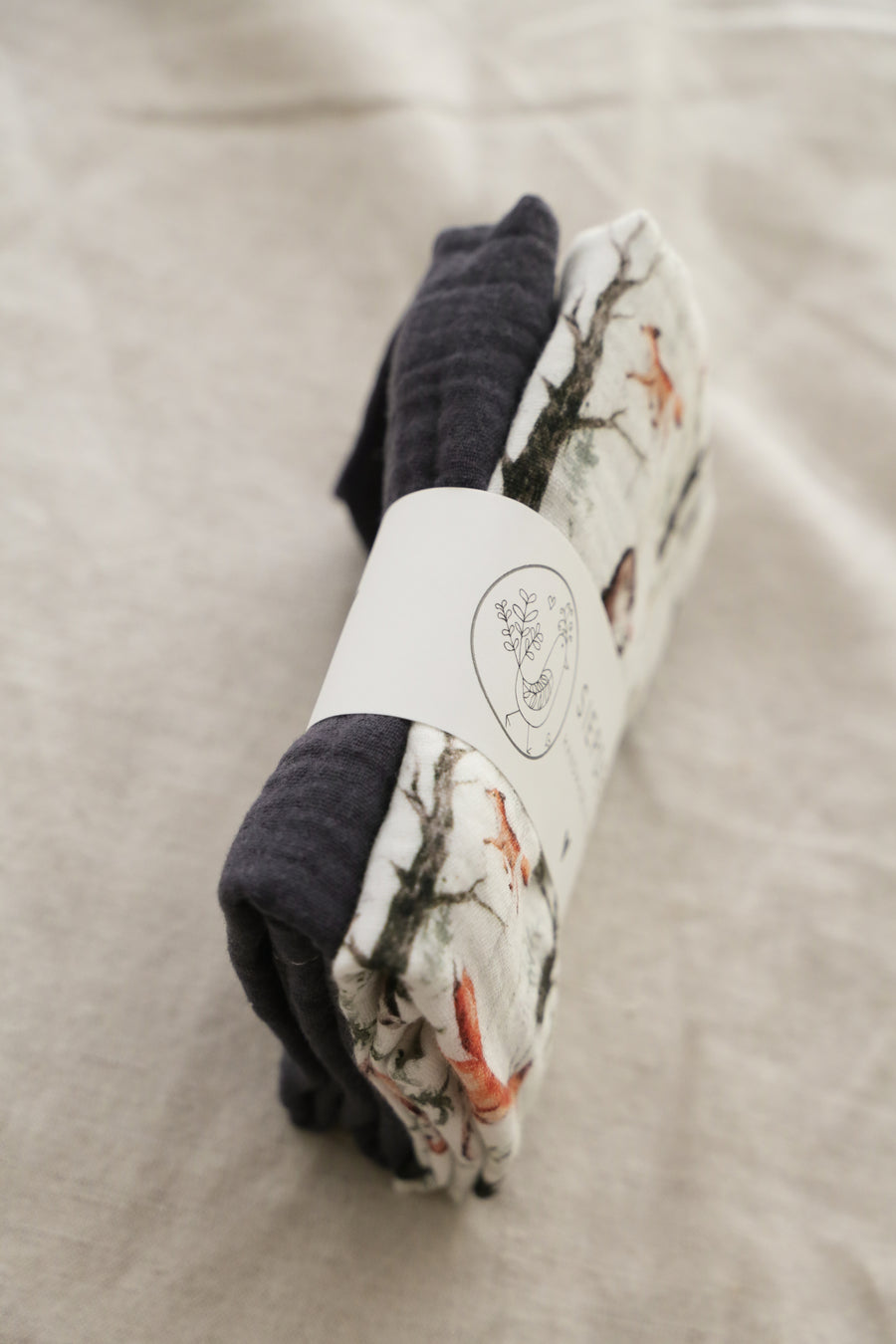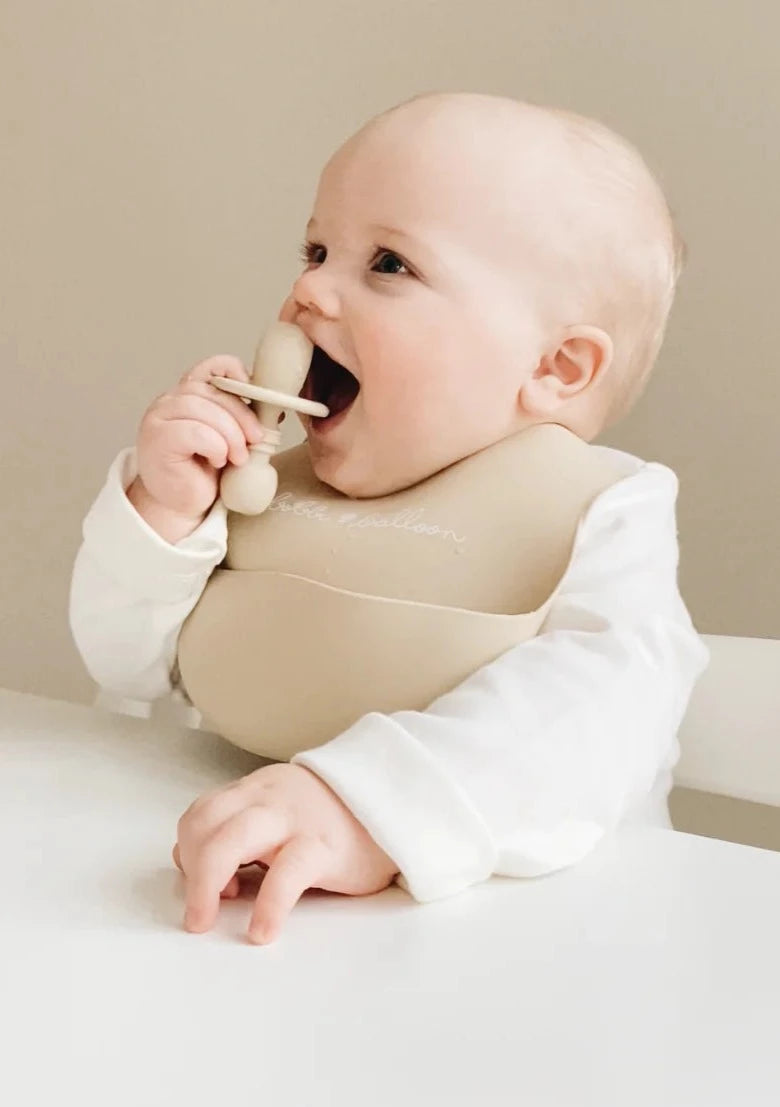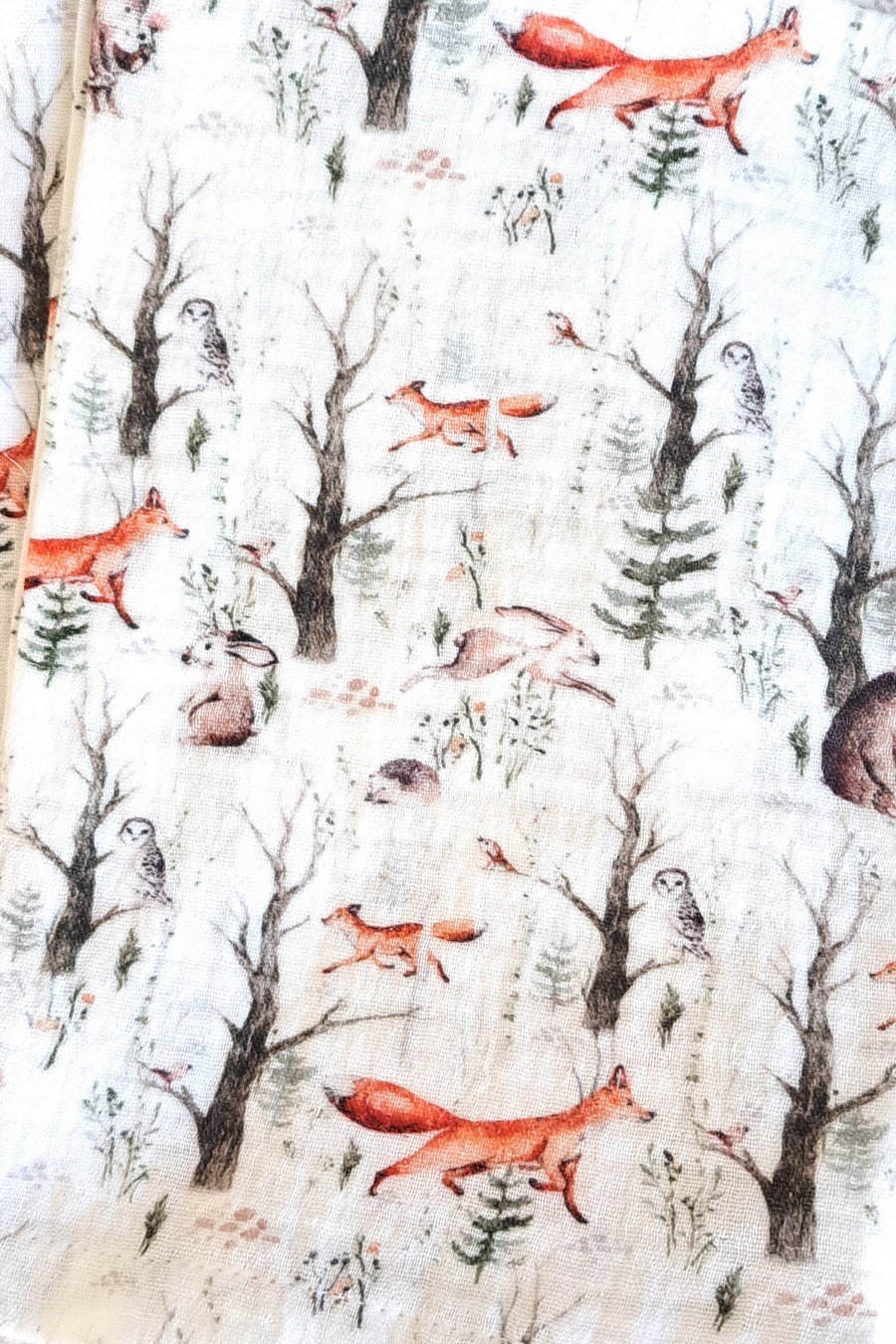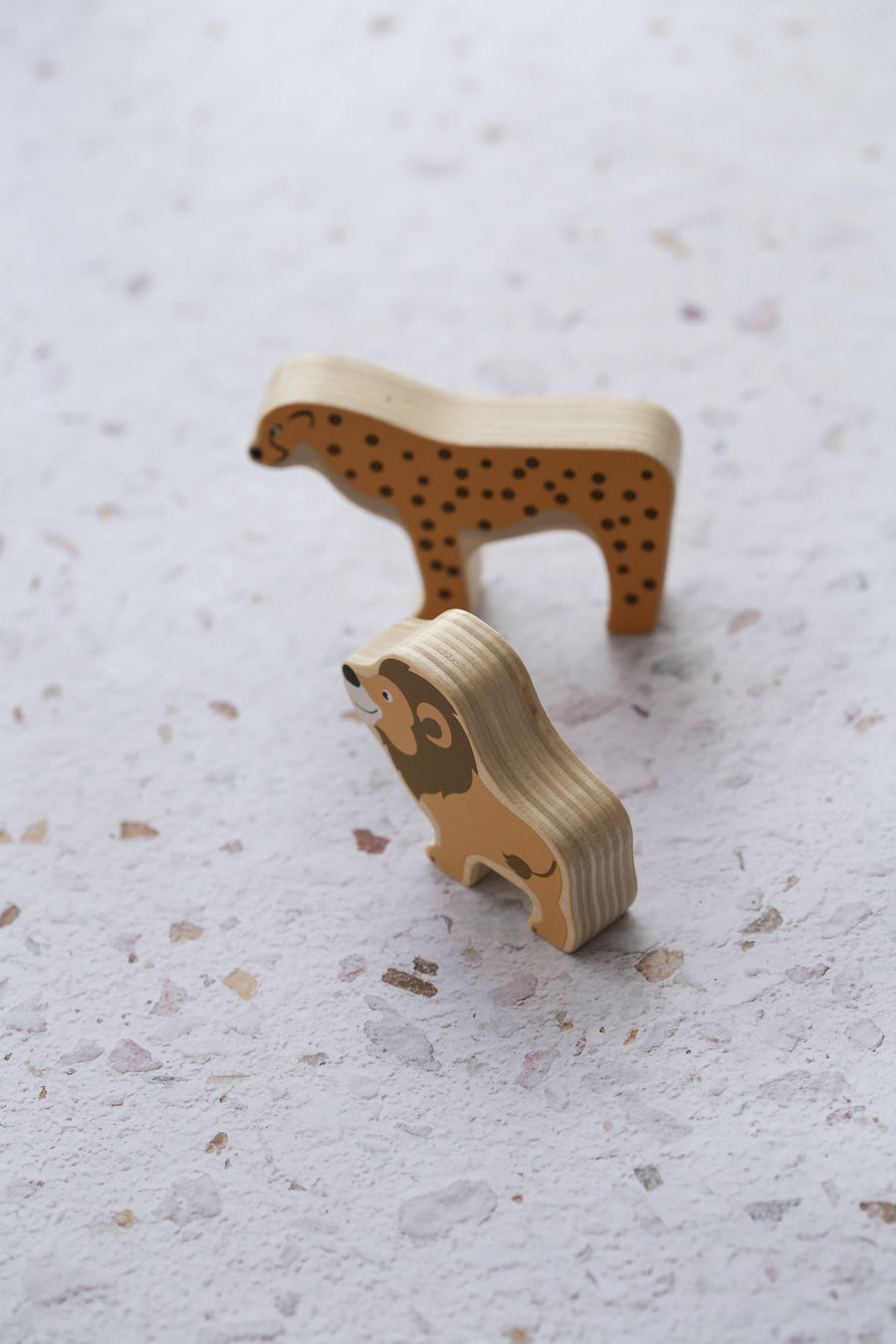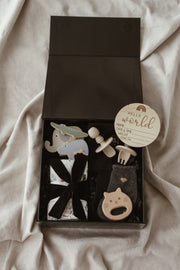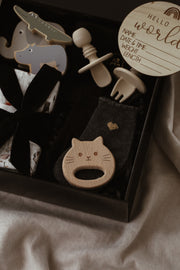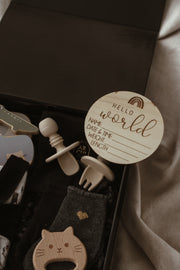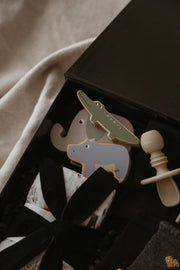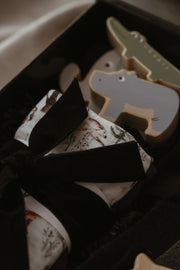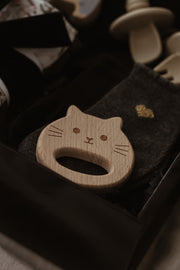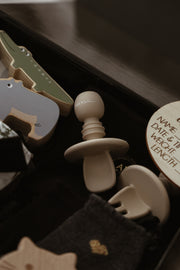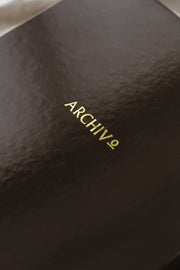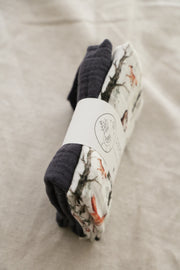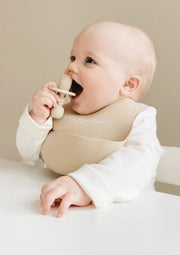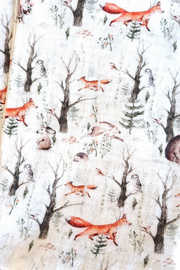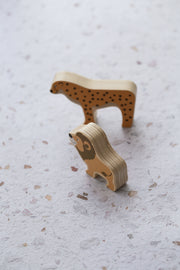 Gift Box - Baby Noir
Regular Price

$82.00
Sale Price

$82.00

Regular Price
Unit price

(

per

)
Product Info
There is something so perfect and serene and sophisticated about a black and neutrals gift.
Introducing the Baby Gift Box in Noir, the perfect way to add a touch of sophistication and charm to a new baby's arrival. The Baby Noir Gift Box is sure to amaze. This collection of small baby gifts in a luxe gift box is ideal for elevating the nursery with shades that are fun, creative and practical. It's sure to make the nursery a magical, dreamy place, bringing lots of smiles!
When welcoming a new baby into the family, it can be a daunting task to gift everything the little bundle of joy could ever need. That's why these incredible gender neutral baby Gift Boxes are the perfect gift for the new baby.  
Say goodbye to the traditional blues and pinks of yesterday and say hello to modern and baby gifts of today. Pairing black with other deep, dark and rich colours creates a gift box that is moody, magical and super stylish. 
Featuring dark hues, playful elements, and a texture that adds interest, this box will be the perfect addition to a special day as a dramatic choice that adds a sense of sophistication and elegance to any baby shower. The beige and wood tones complements the black box, creating a bold, memorable, elegant and stylish look. The light objects pop against the dark background for a stunning effect, ensuring this baby gift box is the perfect present.
This stunning black gift box will elevate the style of any baby room and makes quite a statement.
Welcome to the world sweet baby! A great gender-neutral present for any baby shower, this box is packed with day-to-day essentials for the new baby.

CONTENTS:
This beautiful black gift box contains a 'Hello World' Wooden Sign 
+ 3 Animal Wooden toys in a cotton pouch + Silicon Baby Cutlery in a cotton pouch + 2 Pairs of Cotton Socks + Wood Cat Teether
 + Baby Swaddle Set with a velvet bow.
'Hello World' Wooden Sign:
Our custom

'

Hello World' Wooden

birth announcement sign is the perfect to announce your new arrival to your family and friends. It's the perfect prop to use when taking photos to announce your previous little one, and a special keepsake to display in the nursery afterwards.
To write on your plaque, please use a regular bullet point pen. We'd recommend testing on the back to make sure it the ink won't bleed too much.
An adventure awaits with our Animal Wooden Stacking Toys. Stack them tall and watch them topple for endless early learning fun! The set is perfect for stacking up and knocking back down, as well as imaginative play. The perfect travel buddy, this set comes in a cotton bag for stacking fun on the move, which makes a thoughtful gift. Comes with an elephant, a crocodile and the cutest baby hippopotamus.
The baby spoon and fork are designed especially for new eaters. It is the perfect cutlery set for babies that are learning to eat. It supports the process of self-feeding with its short handles that are designed exactly for this purpose. Comes in an adorable Archivo cotton pouch with a gold foil logo. More here.

Two pairs of socks with a scallop trim. One plain black and one grey with a gold heart. Made of soft and stretchy cotton blend, they're sure to keep your baby girl comfortable all day long. Plus, the scallop trim adds a touch of sweetness. Size: EURO 15-16 (newborn up to 3 months) | 75% cotton | 20% polyamid | 2% elastane | 2% poliester | 1% metalic fibers (gold heart)
Our exclusive all natural cat teether is sure to delight the little one who needs just the perfect item to chew on. Our stylish and cute cat shaped teether is made from 100% natural beech wood. It is light and easy to grip. Perfect to stimulate the development of baby's senses and for soothing their gums. Did you know that beech wood is naturally bacteria resistant? Definitely a plus when babies put everything in their mouth. 
A nap just got so much cozier with the Forest muslin baby swaddle - ideal for swaddling, feeding and cuddling your baby. The Forest beautiful and super soft swaddle is made of 100% hydrophilic organic cotton so they are extremely soft and flexible. On top of this, the hydrophilic cotton is breathable and absorbing. Comes with a luxurious velvet bow.
Size: 50x30cm | 2-pack: 1 forest print + 1 plain | Handmade in The Netherlands
Archivo Gift Box:
The finishing touch to present our gifts within. Made in Denmark, reusable and ideal for storing treasured mementos or just those everyday life items.
Box Size 22.5x22.5x10cm.
--
Please note: If for any reason a product included in this gift becomes unavailable or out of stock, we promise to replace it with another item of equal or greater value which matches the aesthetic of the box you are purchasing.